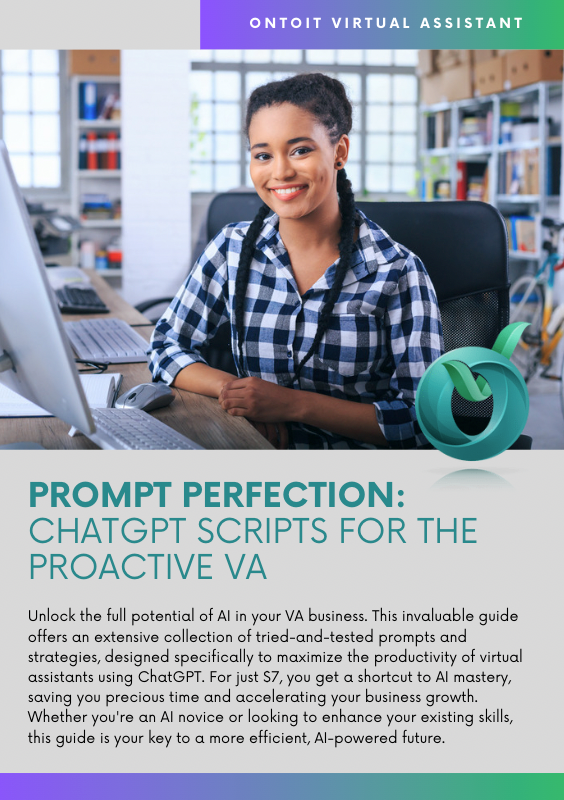 WAITLIST ChatGPT Scripts for the Kickass VA
$7.00
CONGRATS on being ready to unlock the full potential of AI in your VA business. This invaluable guide offers an extensive collection of tried-and-tested prompts and strategies, designed specifically to maximise the productivity of virtual assistants using ChatGPT.
For just $7, you get a shortcut to AI mastery, saving you precious time and accelerating your business growth. Whether you're an AI novice or looking to enhance your existing skills, this guide is your key to a more efficient, AI-powered future. Trust me, its just the shizzle you need to get started on your ChatGPT journey - it's basically saving you all that faffing around!
++ Given the fast moving nature of AI I am currently updating this guide & the next release will be mid August. Purchase now to receive the new & updated version++
But before you go - just know I'm going to be navigating this AI journey like a pro, breaking it down into digestible pieces for all us VA's. So, you can carry on with your day while I sort through the complexities. So don't forget to follow me and subscribe to my emails, k?
Now, I know what you're thinking - "Not another email!" But let me assure you, I loathe spam as much as anyone. You'll only receive a monthly email from me, chocca with the latest in marketing news, AI updates, and handy tips on mindset and productivity.
And the best part? A touch of humour and wit, because life's too short to be serious all the time.
So, subscribe today and let's embark on this AI journey together.
SUBSCRIBE HERE: https://bit.ly/4567WER

SKU: 10000-3